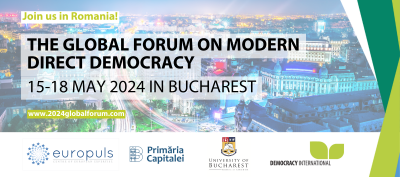 15 May 2024

to

18 May 2024
2024 Global Forum on Modern Direct Democracy
DETAILS
For the first time ever, the Global Forum on Modern Direct Democracy is heading to Eastern Europe! From 15 to 18 May 2024, the world's largest conference on direct democracy will convene in Bucharest, Romania.
2024 will be a crucial year for democracy in Romania, with the European Union parliamentary elections just two weeks after the Forum and local and national elections later in the year.
With this in mind, the 2024 Global Forum will centre its discussions on a critical issue: trust.
Trust in institutions, media, and citizens is of essential importance to our democracies. Alarmingly, less than one in four Romanians trust their Government, and just 12% trust the Parliament. Without trust, how can we expect to make decisions with and for each other?
ORGANISERS
- Europuls
- City of Bucharest
- University of Bucharest
Participants
When this function is enabled, you can see the profiles and contact information of the participants planning to attend this event here.