From 21-29 September of this year, the world's largest gathering of direct democracy activists and experts went online. The first-ever digital edition of the Global Forum on Modern Direct Democracy offered 27 sessions and was attended by over 500 people from 5 different continents. In four different tracks, the Forum dug deeper into themes of direct democracy practice in Switzerland, how to use citizen participation to protect the environment, innovations in democracy and how democratic institutions hold up in times of crisis. All sessions are available to be re-watched here.
Swiss direct democracy in practice
Any Global Forum is not complete without Swiss perspectives on direct democracy! After all it is the country that has gone the furthest in guaranteeing citizen participation in its political decision-making. Subsequently we devoted an entire track (1 lecture and 3 panels) to Swiss Direct Democracy in Practice.
Direct Democracy expert and co-founder of the Global forum on Modern Direct Democracy, Bruno Kaufmann,  kicked the 2020 Online Forum off by providing an introduction to the first lecture on "Swiss Direct Democracy in Practice". Thereafter, political scientist Giada Gianola gave an in-depth outline of direct democratic instruments, campaigns and the Covid-19 pandemic's influence on the September 27 voting day in Switzerland. Through referenda and elections, Swiss citizens are asked to participate in the political decision-making process approximately 4 times a year on an average of 15 federal proposals. On top of this, Swiss citizens also have 3 direct democratic  instruments to make their voices heard namely, popular initiative, optional referendum and mandatory referendum.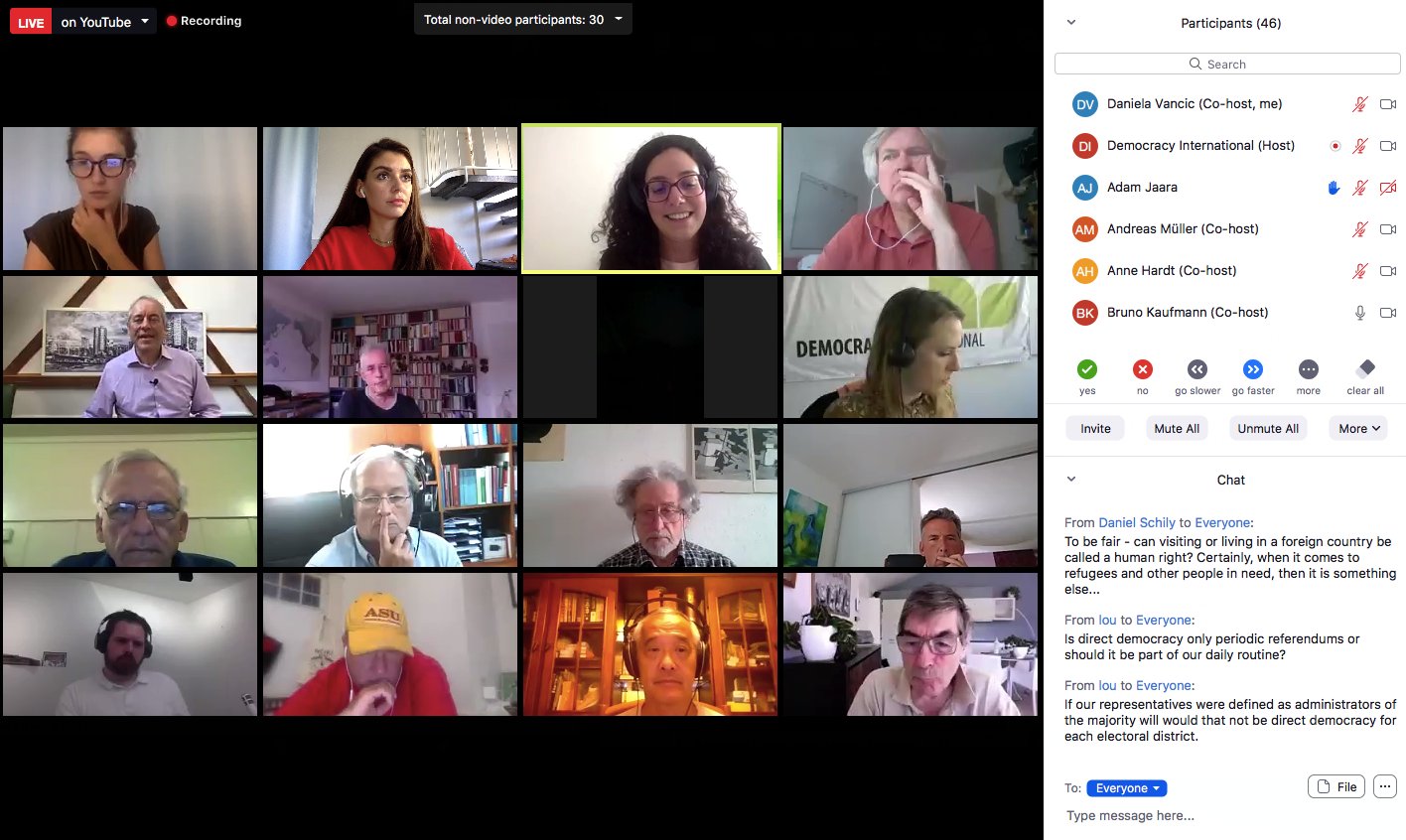 For the second session in the Swiss Direct Democracy track, the forum was honoured to welcome Roger Dubach , Ambassador and  Deputy Director of the Directorate of International Law at the Swiss Federal Department of Foreign Affairs. Dubach's panel focused on a paradigm shift in regulations during in the 21st century. This paradigm shift means that regulations have become more fluid and complex in the face of new forms of commitment, inter-state relations and changing state coercive powers. Thus, rules have become fluid and flexible with increasing importance given to non-binding rules, shared legislative power and evolving forms of sanctions. In Switzerland new models of regulations such as "soft law" are continually influencing classical models.
The third panel in the Swiss Direct Democracy track looked ahead at the 2021 Global City Democracy Summit in Bern, Switzerland. Experts for this session were Claude Longchamps, Joe Mathews, Anu Markkola, José Maria Marín and Helfried Carl, who discussed their projects related to democracy participation in cities. These are the International League of Democracy Cities, Direct Democracy in Bern, Helsinki's citizens participation model, the Open Government Partnership (OGP) Local action plan and the European Capital of Democracy initiative.
The final panel session, provided even more in-depth information on the September 27 popular voting day in Switzerland, as well as the role of public service media in the process. This panel was led by leading journalists from "Swissinfo" public service media Larissa  Bieler, Renat Künzi, Domhnall O'Sullivan and Urs Geiser. The most controversial topic for the 27 September vote in Switzerland was an initiative to limit EU immigration into Switzerland, which could have had far-reaching implications for Swiss-EU relations. However, Swiss citizens rejected the immigration initiative (38,3% yes vs 61,7% no).
All of the panels were followed by a Q&A session for participants to engage in a dialogue with experts. The success of this track shows once again that, because of its participatory nature, democracy is alive and well in Switzerland! Switzerland is an example of how democracy can be aligned with the preference of the people and how polarization can be overcome.
How direct democracy can help the climate movement
In recent years, citizens around the world have used direct democracy and citizen participation tools to call for and implement policies to combat climate change. At the Forum we heard from several initiatives and campaigns aimed at promoting and enforcing a more sustainable model of living.
One obstacle citizens face in getting governments to implement resolute climate measures is that governments don't want to compromise the competitive position of their country in an international arena. On Monday, we heard from the Simultaneous Policy Campaign, who presented a tool that citizens can use to call on politicians for measures to be implemented at the same time across borders.
A popular tool that has surfaced in recent years to address climate change is the use of randomly-selected citizen assemblies. Until present, no country has taken this exercise as far as France, where 150 citizens were randomly selected last year to discuss and draft specific measures to lower France's greenhouse gas emissions by 40% by 2030. On Tuesday, we heard from Nadine Breneur, who was one of 150 citizens selected to take part in the Citizens' Convention on Climate. Nadine explained how the experience of being selected at random, following just some guidelines in order to achieve representativeness of French citizenry as a whole, and tasked to draft binding measures was an empowering and encouraging experience. After her input we heard from experts on the French Convention and Citizens' Assemblies in general, who discussed the advantages and challenges of citizen participation in addressing the climate question.
On Wednesday, we were joined by the Climate Initiative Austria (Klimavolksbegehren) who ran an enormously successful campaign this summer, handing in almost 400,000 signatures to the Austrian parliament calling for constitutional guarantees on climate change. Their proposals are currently being discussed in the Austrian Parliament. Katharina Rogenhofer, spokesperson for the initiative, talked participants through their campaign and the workings of the citizens' initiative tool in Austria, which is not binding but can help citizens to set the political agenda.
Germany, does have binding citizens' initiatives, at least at the local and regional level. And in recent years, citizens have used this tool to enforce better infrastructure for cyclists throughout the country. Sonja Thiele of the NGO Radkomm talked about successes they achieved in the state of North-Rhine Westphalia, where Aufbruch Fahrrad succeeded in moving the State Parliament to adopt a new mobility law.
In a discussion on Friday, we looked at how different participatory and direct democracy instruments can complement each other to lead to swifter and more effective action on climate change. A strong call for civil society involvement, combined with citizen assemblies, voter pressure on elected officials and binding direct democratic tools emanated from the panel.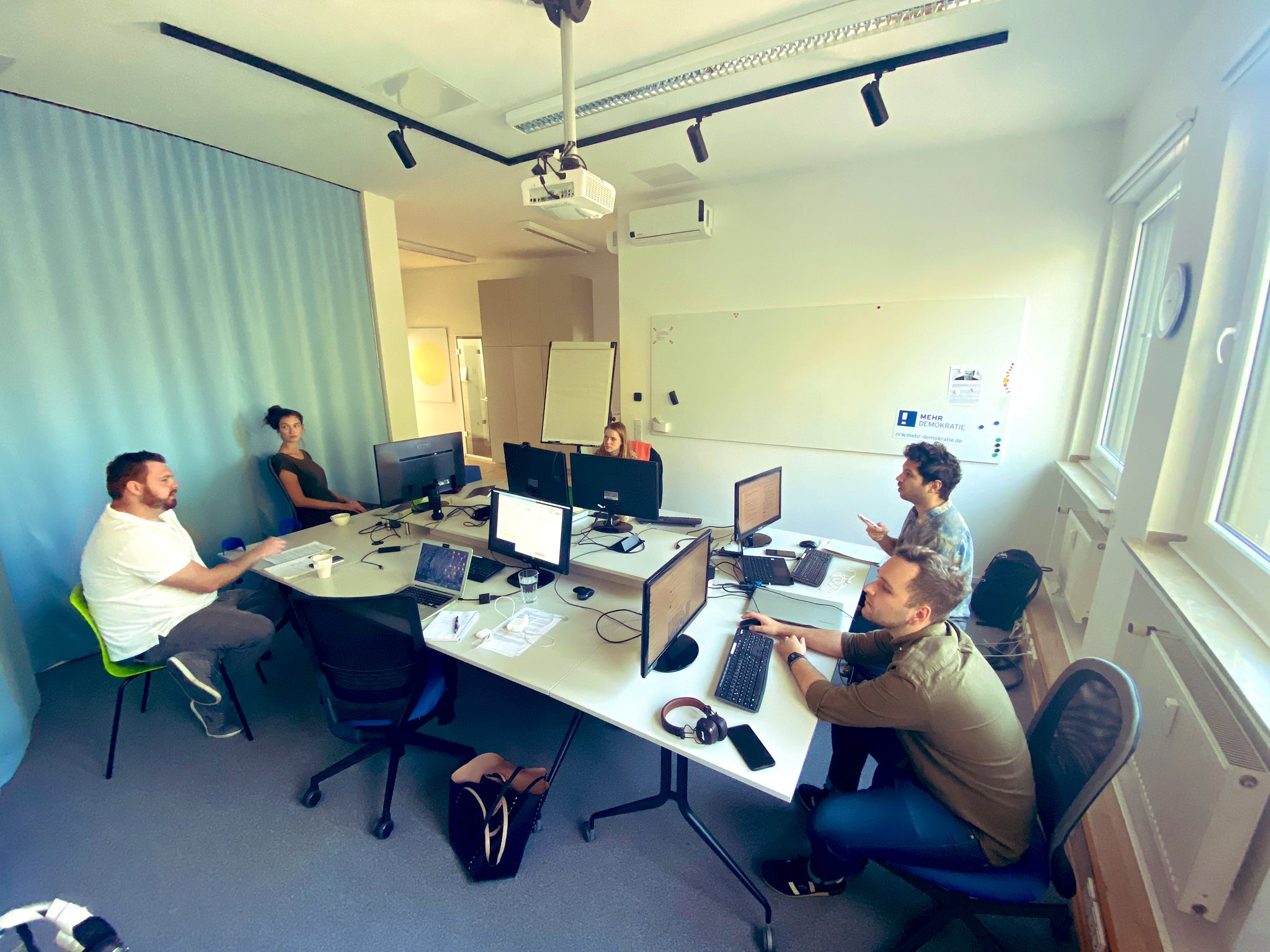 Is the future of democracy direct?
What democracy innovations exist? How can democracy address the challenges we face? What will democracy look like in the future? If we're to take the advice of the speakers at the forum it will be more direct, young, global, multilateral and digital! In six sessions, we examined the opportunities and challenges ahead.
We kicked off the track on Tuesday with a panel on a UN World Citizens' Initiative. The UN Independent expert on the promotion of a democratic and equitable international order and representatives from Greenpeace, Asia Democracy Network and Democracy International discussed how more citizen participation can both reinforce the mission of the UN and offer citizens around the world a possibility to put global challenges on the agenda at the UN.
In recent years, research seems to show that young people across the globe are increasingly turning away from democracy. On Wednesday, with speakers from Fridays For Future, Digidem Lab, Montage Initiative and AEGEE Europe, we discussed what the underlying reasons for that are, but also how we can link youth activism with democratic institutions and how young people themselves can push for democratic innovation.
One element that has become abundantly clear from this need to build more inclusive and global democracies, but also from the crisis we are living through right now, is that democracy needs to offer digital options for participation. On Thursday, we looked at different existing online platforms for signature collection and analysed which lessons we can learn from their experience, especially with regard to the European Citizens' Initiative and the upcoming overhaul of its signature gathering system.
On Friday, in a panel hosted by GloCo we heard from several initiatives aimed at the implementation of global direct democracy. The panelists dedicated special attention to digital challenges and instruments to overcome them, such as blockchain technology.
We circled back to the four different thematic tracks of the forum, on Saturday, when our panelists discussed how direct democracy can help us move beyond crises. What will our democratic future look like and how do we get there?
Finally, our closing session on Wednesday our partners at Zócalo Public Square collected views from Chile, Mexico, Taiwan and the US, looking at both the rising tide of authoritarianism around the globe and the many innovative direct and participatory instruments. You can read the full takeaway on the panel here.
Using democracy to move beyond COVID-19 
The COVID global pandemic has exacerbated many pre-existing democratic crises. Therefore, an entire track at the 2020 Online Global Forum on Modern Direct Democracy was devoted to "Democracy in Crisis". This track was a brilliant example of the Forum's way of bringing people from all over the world together to discuss issues of direct democracy. It consisted of 4 panel discussions.
Toni Skorić opened the first panel session with a contribution on democratic backsliding and abuses of power in Hungary during the COVID-19 pandemic. This was followed by Clara Egger and Raul Magni-Berton's presentation on the Exceptius research project aimed at evaluating exceptional decision-making in 32 countries during the Coronavirus crisis. One of their important initial findings is that people need to trust in democracy and require reliable information for democracies to remain resilient during crises. The next contribution was made by Dobrica Veselinovic from the "Don't let Belgrade drown" civic movement on Coronavirus restrictions in Serbia and the use of the crisis by the Serbian government to make political gains, causing widespread distrust in the government from the population. The panel contribution was rounded off by Arjen Nijeboer who spoke about the Coronavirus situation in the Netherlands and the public's reaction to special measures.
The second panel focused on the American election with specific reference to voter turnout and participation during the COVID-19 crisis. Sarah Rosier from Ballotpedia opened the session with a presentation on changes in voting methods in response to the pandemic in the USA. The conversation then moved over to direct democracy with Dane Waters and Paul Jacob highlighting challenges related to ballot initiatives for the upcoming election. Next, John Matsusaka spoke about the benefits of direct democracy, especially during times of crisis. Finally, Nancy Wang brought the session to a close with a contribution on organisations and initiatives working towards ensuring proper democratic practice during the election.
We also facilitated 2 highly successful Spanish language panels on democratic challenges in Mexico with simultaneous interpretation into English. The first panel was headed by Claudia Zavala, Bernardo Valle Monroy, Rita Bell López and Arturo Meraz and focused on how the global pandemic has hindered the participation of women and indigenous communities in Mexico. Further mention was made of direct democratic tools in Mexico and other instruments of democratic participation. The second panel looked at the Mexican government's initiatives to reach disadvantaged members of society and the role of the public in solving problems stemming from COVID-19. The proposed way of achieving this in Mexico is through a National Social Participation System, which was presented by Mexican Senator Rabindranath Salazar Solorio. Both panels were attended by almost a 100 people, making them some of the most highly attended panels at the entire Forum and demonstrating people's interest in these topics.
All in all, the main lesson from this track is that already strong and resilient democracies are more robust and less prone to democratic backsliding during times of crisis, whereas democracies with pre-existing problems experienced further setbacks during COVID-19.