Together with our Co-hosts Europuls, the University of Bucharest and the City of Bucharest we are working on a programme that will look at direct democracy, citizen participation and active citizenship in the city, the country and the region.
2024 will be a major election year for Romania. Not only will the Forum take place three weeks before the next European Union parliamentary elections, providing a unique insight into the democratic processes of the world's first and only transnational democracy. But later in 2024, Romania will also have local, national and presidential elections and in all likelihood join the Schengen area, completing a decade-long process of EU accession. To explore these topics in depth, the Global Forum will partner up with the existing EUROSFAT Forum, which takes place at the same time and will host a common track of sessions focussed on democracy in the European Union.
As at every Forum, an optional pre-tour will offer you a chance to delve deeper into the political history of Bucharest and Romania.
The 2024 Global Forum will devote its attention to the all-important issue of trust. Trust in institutions, trust in media and trust in citizens. A sobering statistic shows that less than one in four Romanians trust their Government and even less (12%!) trust the Parliament.
Trust is the compound that binds the very fabric of our democracy. If we don't trust each other, how can we be expected to make decisions with and for each other?
At the same time trust in the sovereignty of people and trust in a peaceful Europe have come under unprecedented pressure. The region is at the forefront of the global crisis, with the war in neighbouring Ukraine taking a toll also on life and security in Romania, nearby Moldova and the entire Black Sea region. Now is a crucial time to reconfirm the fundamental importance of democracy and to reimagine a democracy that works for everyone. We look forward to you joining us for that conversation in Bucharest next year.
With this announcement and invitation, we take over as the 2024 Forum co-chairs, following the 15 year-long tenure of the two founders and co-presidents Bruno Kaufmann and Joe Mathews. Both will continue to support and participate in the Forum.
So save mid-May 2024 in your calendars and sign up to receive updates and a notification once registration opens.
See you in Bucharest!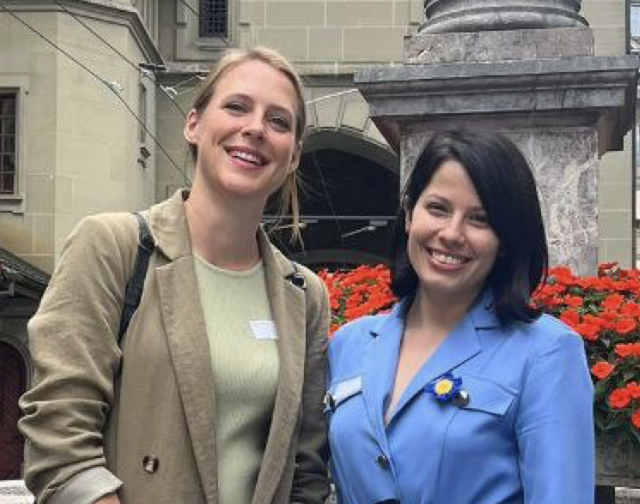 Democratically yours,
 
Caroline Vernaillen and Tana Foarfă, Co-chairs of the 2024 Global Forum on Modern Direct Democracy