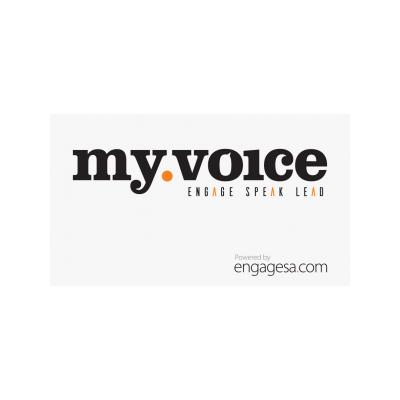 Engage South Africa
Citizen participation, Civil society, Human Rights, Development and empowerment, Education and youth participation
Engage SA is committed to strengthening democracy and human rights in South Africa through the promotion of youth leadership and active citizen participation in democracy. With 'my.voice' we provide youth, particularly high school learners, with a leadership and active citizenship programme that develops their critical thinking, dialogue, leadership and civic participation skills and offers them the platform to learn to participate meaningfully in democracy and find their voice as young leaders
DETAILS
QUICK FACTS
We are a youth- and female-led organisation with an internationally experienced team
We believe that young people are absolutely key to the positive shaping of our democracies
'my.voice' was developed by an international team of teaching professionals
'my.voice' offers youth the knowledge, skills and platforms to become engaged citizens and find their voice as young leaders
'my.voice' works exclusively with transformational training methodologies. It is not taught, but experienced.
WHAT I CAN OFFER
WHAT I'M INTERESTED IN
HISTORY
We founded Engage South Africa in 2017 because we deeply believe in the power of young people to change societies for the better and because we are concerned about the high disengagement and alienation of youth from the country's social and political decision-making.
We have been running our my.voice leadership and active citizenship programme since 2018, training 11 facilitators and impacting about 500 young people so far.