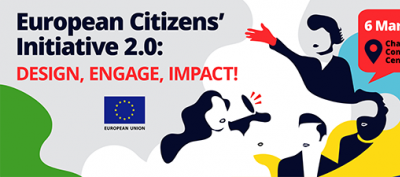 European Citizens' Initiative 2.0: Design, Engage, Impact
DETAILS
This event is organised by the European Commission, with the participation of other EU institutions and advisory bodies, as well as civil society organisations.Building on the positive momentum of recent years, the European Union is leveraging the update of the European Citizens' Initiative to further raise awareness and the possibilities it offers for European citizens to design their own initiatives, engage in policy-making, and have a real impact on agenda setting at the EU level.
By bringing together all European Citizens' Initiative stakeholders, this event offers everybody with a stake in participatory democracy the opportunity to share their experiences and discuss their ideas on how best to spread the word and increase awareness of the European Citizens' Initiative. We all have a role to play as ambassadors of the European Citizens' Initiative, and we need to work together to increase citizen involvement in EU decision-making.
ORGANISERS
- EU Commission
REGISTER
REGISTER FOR THE CONFERENCE
You will need to use your EU login to register. If you do not have one, click here to create it. 
Your EU login will also allow you to access all the functionalities of the European Citizens' Initiative Forum, as well as any other site of the European Commission.
SPEAKERS
Vice President of the European Commission for Values and Transparency

Board member Democracy International & Global Democracy Correspondent at the Swiss Broadcasting Company

Executive Director of the European Citizen Action Service (ECAS)